This is the first of her ideas that we tried. Blowing these balloons up is HARD. I'm glad I learned to use my bicycle pump for a balloon pump while preparing for the birthday party last month.
We had to take our little light sabers into the laundry room for a decently dark space in the middle of the day.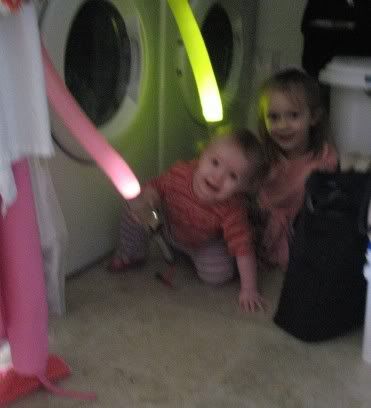 Of course my girls have not seen Star Wars at all, but I found that the light saber idea doesn't really need an introduction.
I found the greatest blog! It's called Filth Wizardry, and it's all about the crafty adventures a mom has with her two daughters, 4 & 5 years old. It has to be filthy, because of their ages, and best of all she uses stuff that's around the house. That's a big deal because it's not always easy to go and buy a lot of supplies with little kids, and spur of the moment things are more fun, anyway!